Authorized Dealer
Best Sellers
---
NEW FSE Fire Bottle System
Same great system , New Price! 10lb bottle, WoO and Lucas approved, 2-heat activated heads, mounting clamps. Custom systems available for Rocket, Longhorn, Berry Wright, and standard Late model systems!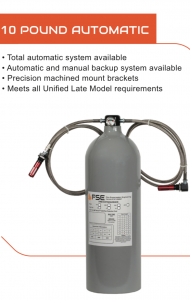 $895.00
---
Ready to install PRE MADE SPRING STEEL KIT
These kits are cut, drilled, wrapped, ready to install on your car, and SHIPPED FREE in the US! Kits now available for Rocket blue cars, Rocket XR1s, and Mastersbilt cars! Each kit is double thick, wrapped with heavy duty plastic wrap, and holes are pre-punched!
$268.99
---

We offer shock services in house! Call today to find out more!
---
2019 XR1 Rocket Chassis
Brand New Rocket XR1 as described and photos are.
2019 Rocket XR1 Powdercoated frame, deck installed, silver cockpit installed, gauge mount, brake line kit electric shut off and hard / soft flex brake lines, brake pedal dual mount, clutch pedal, coleman bearing gas pedal, wilwood mastercylinders and clutch mastercylinder, brake adjuster, front motor skid plate and inner skid plate. We are a Rocket Chassis Dealer so we also stock all of the rest of the Factory Rocket bolt on parts needed. Please call for a custom quote or for more information! 717-646-0090
$11,790.00
---
Did you know we do body and deck kits?
Check out the pricing below. We keep it IN STOCK! Call 717-646-0090 for more information.